2.600 additional square meters for MAG's Monteprandone site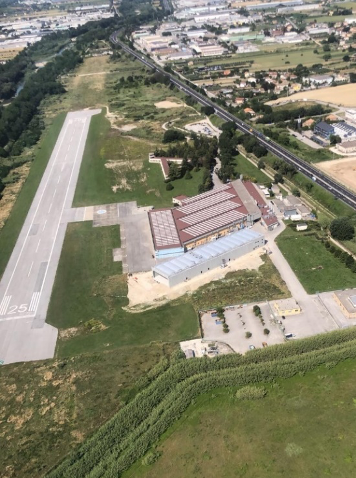 A new important investment of Mecaer Aviation Group (MAG) for its Monteprandone site.
September will be the month in which MAG will hold the inauguration ceremony for its new hangar.
The new building will house all special processes, such as galvanic treatments, inclusive of new processes recently added to its capabilities. Also available will be a new cabin booth (18.5 sqm by 6.5 sqm) able to house medium/heavy sized helicopters, that will be in addition to the 2 already existing cabin booths dedicated to component painting.
The new area will also have a dedicated area to the research & development and production laboratories, increasing therefore its current available capacities.
A 1.100 square meter area will be dedicated to flight line and maintenance activities with dedicated offices.
The roof of the new hangar, in line with the Company's eco sustainability policy, will accommodate 1.775 square meters of solar panels, capable of producing 435.000 KWh/year of clean energy.
Thanks to these new spaces available in the existing facility, the production capacity of the site will be increased and improved with new machinery and a complete reorganization of the production line for helicopter interior composite products, giving MAG the objective to become even more competitive and agile towards supporting its Customers.
What's more, the existing MR&O department will increase and have better rationalized areas for helicopter and equipment MR&O activities, in line with MAG's strategic plan and in line with the objective of further improving the services provided to its Customers, providing reduced turn around maintenance times as and extending its capabilities to new helicopter models.
MAG was able, in line with the diversification actions implemented in the recent years, to hold up to the recent crisis period caused by the Covid-19 pandemic, without ever interrupting its activities, and is looking forward to a restart after a brief Summer shut down period. The new facility, built in record times and in line with expected cost and lead times prior to the lock down period, will allow the Company to be even more present and competitive in the private and governmental helicopter maintenance environment, in the development of interiors for new Utility, VIP, Corporate and EMS helicopter interiors as well as in the update of configurations for helicopters already in service.